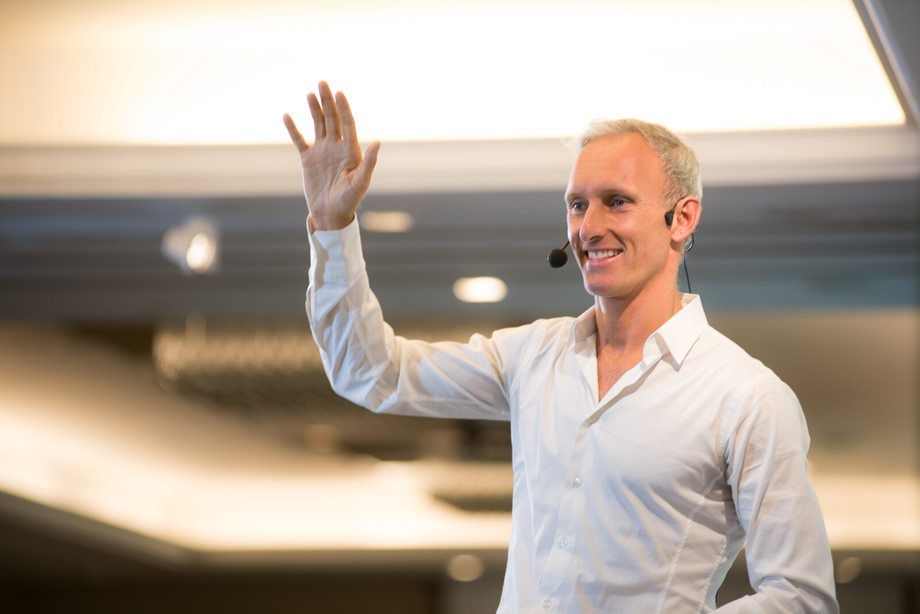 One of my first happy moments in my memory was as a child around 6 years old, walking down to the beach through a very steep path towards Porthmore Beach in Cornwall. It was an arduous journey in English weather but extremely fun times with friends at the beach as a young boy.
It's these memories of joy that inspire me to teach well-being. Well that's part of the truth and perhaps the other part I share another time!
I graduated from Cambridge in 1995 and it was difficult to get a job. Barings Bank had just collapsed with it's rogue trader but I was very fortunate to find employment at Goldman Sachs in London. I thought WOW it's exciting, I felt exhilarated walking onto a trading floor, it was the window to the world exploring currencies, bonds, and so on. But after a while it didn't feel like I was going to do it forever.
I became frustrated, my life was dominated by numbers, spreadsheets and money. And the environment wasn't exactly calm!
At the time I was running a trading desk I went on a leadership programme and it was then that I realized it was time to leave and do something more important. So I left the finance world and started a green business to reduce CO2 emissions around the world. When that little venture came to an end during the financial crisis of 2009 that's when I began engaging with the wellbeing of myself and others.
I wanted to learn how I could use the tools of well-being science, philosophy and literature on wellbeing and then I began to teach it.
The world has done a good job of increasing economic growth but people lack wellbeing. I started the course to share with people what I have found over the years to deal with stress and cope better. Smart people want to know all the science to back things up so that's what I give to people – the best knowledge from science, wisdom, business and leadership.
We can read books on philosophy, but I want to give practical tools that help people make real positive change. One of my mantras is 'small steps make a big change' and I believe this is what truly helps us improve our wellbeing over time.
So about ten years ago, I spent 18 months researching and creating a selection of content based on neuroscience, management, business, behavioural finance and positive psychology. All these topics were becoming a popular topic at this time as people realised they were suffering.
I wanted to try to help people unlock their potential at home and in the office. Twenty people showed up to my first course after I sent an email to my friends. And pretty much everyone thought I was nuts!
At the same time I stopped eating meat to save the environment and started practicing yoga and meditation. I was fortunate that a lot of distinguished people decided to take my course - senior PR executives, investment bankers, politicians, and so on and the word spread. Eventually into the corporate world.

I've found what I call a 'smorgasbord approach' to have greatest effect because we all know everyone is different. When I present perhaps 10 tools I know that one person identifies with one, another person with another. There's no one size fits all approach but rather how can you make them applicable and relevant to you when you need it. Little by little.
Most importantly, I ran the Resilience course to see how people chose to engage and to see if I enjoyed sharing this type of information. I was fortunate that people liked it and I learned about teaching methods and how to guide others to embrace change.


We all still have our ups and downs, myself included! But here are
three tricks
that I use to maintain a consistently positive mood:

1. Physical exercise is very powerful, I go take a run or practice yoga to shift my energy especially if I sweat a lot.


2. I use breathing techniques or meditation depending on where I am in the day to calm myself down. Not everyone is used to these practices so find a gentle way into it.


3. Pick up the phone! This shift in mindset to connect with another person changes the brain. Having a mindset willing to share your life experience enables me to feel a bit lighter about it. Most importantly, I try not to push my feelings away but allow them to be in myself, I let it come up and then gently disperse - learn and observe.


It's a journey but I feel like I'm heading in the right direction.
Please share back how your own journey and how you are doing.


Have a wonderfully happy, peaceful day,


My Daily Practice!
Measure your progress
Great to see you here!
Let us bootstrap your career!
Created with